Basic introduction
台达的20PM系列是一款强大的运动控制器,其电子凸轮(CAM)功能通过变换不同的控制曲线,广泛应用于各种高要求的运动控制中,例如:包装机行业中的飞剪,机床行业中的飞锯,印刷机行业中的电子轴裁切及套印,纺机行业中的精密络筒绕线等等
Delta's 20pm series is a powerful motion controller. Its electronic cam function is widely used in various high demand motion control by changing different control curves, such as: flying shear in packaging machine industry, flying saw in machine tool industry, electronic axis cutting and overprinting in printing machine industry, precision winding in spinning machine industry, etc
This case introduces the application of 20pm electronic cam function in high speed soap cutting machine.
Introduction of equipment
本案例中介绍的是高速肥皂切割机,可以在线切割各种长度的肥皂,有两种方式切割:定长方式与定位套花方式,两种方式均要求克重误差小,切口垂直。无论是以上哪种方式,都可归结为飞剪控制,总的要求是切刀要与出料速度同步,切的定长要准。两种方式的区别在于跟随开始部分,定长方式只要启动跟随,从轴就采集主轴脉冲,按CAM表运行。定位方式在于,开始时等到一个外部接近开关启动信号,然后才按定长方式走,不过,定位模式这个定长是固定的,等于印花轮周长处以印花数,可在线调整开始跟踪的位置。
In this case, the high-speed soap cutting machine is introduced, which can cut soap of various lengths online. There are two ways of cutting: fixed length way and positioning sleeve pattern, both of which require small weight error and vertical incision. No matter which of the above methods can be attributed to flying shear control, the general requirement is that the cutter should be synchronized with the discharging speed and the cutting length should be accurate. The difference between the two methods lies in the following starting part. As long as the fixed length method starts the following, the spindle pulse will be collected from the shaft and run according to the cam form. The positioning mode is to wait for an external proximity switch to start the signal at the beginning, and then press the fixed length mode. However, the fixed length of the positioning mode is fixed, equal to the number of prints at the circumference of the printing wheel, and the position of starting tracking can be adjusted online.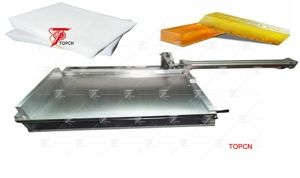 Soap Cutting Machine
Application planning and effect
本方案高速切割机的飞剪功能在于20PM电子凸轮的应用,在刀辊的周长上被划分为同步区域和异步区域,设置了加速位置,同步起始位置、切割位置、同步结束位置、参考点位置,这些都是根据线速度V和裁减长度L、压花辊周长C等由PM计算的结果,在20PM内生成CAM曲线,测量的高速编码器信号直接接入到PM的编码器输入,不作运算,直接按PM内的寄存器数据轨迹走,因此系统的响应速度非常快,避免了传统PLC控制方案下,切面不整齐、克重误差大、成品品质低下等问题,保证了切割速度同步,切割长度的精度
The flying shear function of the high-speed cutting machine in this scheme is the application of 20pm electronic cam. It is divided into synchronous area and asynchronous area on the circumference of the cutter roll. The acceleration position, synchronous start position, cutting position, synchronous end position and reference point position are set. These are calculated by PM according to the linear speed V, cutting length L, embossing roller circumference C, etc., and cam curve is generated within 20pm The measured high-speed encoder signal is directly connected to the PM encoder input without calculation, and directly goes according to the register data track in PM, so the response speed of the system is very fast, which avoids the problems such as irregular section, large weight error and low quality of finished products under the traditional PLC control scheme, and ensures the cutting speed synchronization and the accuracy of cutting length.