Toilet Soap Finishing Making Production Line
Pulished on Apr. 11, 2019
Toilet Soap Finishing Making Production Line use soap noodles as raw materials.The process of making toilet soap starts with the mixing for soap noodles and perfume. Then the mixed soap noodles enters into three roller mill, where thin soap sheets are made. Then the soap materials go to soap plodder, where are grinded and extruded into long soap strip.Then the long soap strip are stampped into the required size by stampping machine . Finally the soap bars gets packed by packing machine.
Machines involved for making laundry soap
1. Mixer
Used for mixing soap noodles.
2. Three Roller Mill
Used for grinding soap noodles into thin sheets.
3. Plodder (Extruder) Machine
Used for molding the sheets into long strip soap of required shape.
4. Stamping Machine
Used for stamping long strip soap into soap bar that is desired size and shap .
5. Packing machine:
individually packed in plastic wrapper,or loose-packed (such as 5bars) in one shrinkage bag.
Toilet Soap Production Line,Toilet Soap Finishing Line, Soap Making Machine
Available complete set of toilet soap making machine
1)capacity: 100—150KG/Hour
2)capacity: 300—500KG/Hour
3)capacity: 800—1000KG/Hour
Typical configurations of soap linishing lines are composed with following soap machines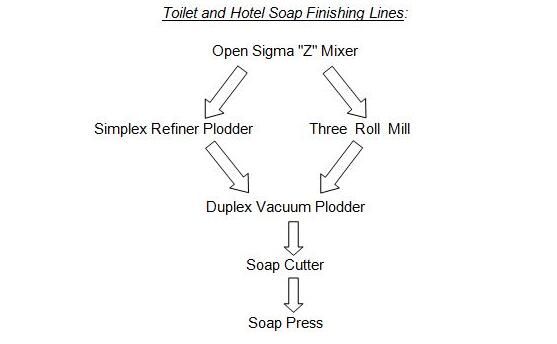 1.saponification tank
2. crutcher
3.tubular heat exchanger
4.vacuum drying chamber
5.duplex twin worm pelletizer
6. cyclone separator
7.atmospheric condenser
8.gas-water seperator
9.surge tank
10.vacuum pump
11. conveyor
12.mixer
13.three-roll mill
14.vacuum plodder
15.soap cutting machine
16.Soap stamping machine 17.soap packing machine
For more information about Toilet Soap Production Line,Toilet Soap Finishing Line,Soap Making Machine pls email to sales@topcnmachine.com